EDIT MAIN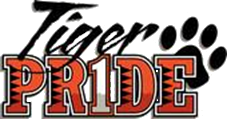 LAWRENCEBURG COMMUNITY SCHOOL CORPORATION
2020-2021 TIGER PRIDE MEMBERSHIP INFORMATION
WHAT IS TIGER PRIDE??
Tiger Pride, Inc. is a non-profit athletic and activities booster organization supporting ALL boys' and girls' athletic and activities programs at LHS and GMS.
WHAT DID TIGER PRIDE DO FOR THE 2019-2020 SCHOOL YEAR?
Donated $13,000 to LHS and GMS Athletic Departments to support ALL boys' and girls' athletic programs
Paid over $6,500 for GAS for ALL away athletic events
Paid over $7,000 for AWARDS such as certificates, trophies, letters, bars, pins, and blankets, etc. for ALL athletic programs
Fundraising totals over $4,100 to support student athletes
TIGER PRIDE also operates The Tigers Spirit Store selling Tiger apparel and other AWESOME TIGER PRIDE spirit merchandise
Over $30,000 generated to support our student athletes!
As a reminder, Tiger Pride earns income from your yearly membership of $30, advertising in the All-Sports program booklet, buying game ball tickets/split the pot tickets, sponsoring game balls, and purchasing LHS concession stand and Tigers Spirit Store items during the fall and winter season.
2020-2021 Tiger Pride Officers
Randi Dunn, President
Heather Kareckas, Merchandise
Kendra Oberting, LHS VP, Concessions
Andrea Rodgers, Merchandise
Martha Whalen, Treasurer
Andrea Golden, Merchandise
Rae Banta, Secretary/Awards
Aimee Clark, Officer
Sarah O'Brien, Memberships/GMS VP
Jamie Lorton, Officer
Amy Thornton, Concessions
Michelle Tufts, Officer
Angie McCool, Concessions
Melissa Watkins, Officer
Sharon McAndrew, Sports Book
Jamma Kelly, Officer
Alicia Kent, Officer
If you have questions or would like to become a Tiger Pride Officer, please email us at: tigerpride@lburg.k12.in.us